Frequently asked questions
DO YOUR PRODUCTS COME WITH A WARRANTY?
---
Yes. All of the products we offer come with a limited lifetime warranty. If your product arrives damaged or does not work do to a manufactuer error within 30 Days we will replace it at no additional cost.
---
WILL THESE BATTERIES AND TANKS WORK FOR THICK OIL?
---
Yes. All of our batteries and tanks our designed to vape the thickest oils available today.
---
HOW MUCH IS SHIPPING?
---
All items from RX Vapor Co. ship for FREE!
---
HOW DO I START A RETURN?
---
CONTACT US DIRECTLY THROUGH THE CONTACT RX LINK IN THE TOP RIGHT.
---
WHAT IS A OIL TANK?
---
TANKS ARE WHAT HOLD THE OIL. THEY HAVE A COIL BUILT INSIDE TO VAPORIZE THE OIL.
---
HOW DO I KNOW WHEN RX BATTERY IS CHARGED?
---
The charge time on the Rx Slim is 1-3 hours, there is an LED located on the charger which illuminates Red when charging and Green when fully charged.
---
IS THERE A VIDEO OF HOW TO FILL THE TANKS?
---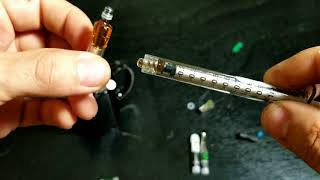 ---
---